---
---
Have You Ever Ruined Tiles by Cracking Them or Cutting the Wrong Hole?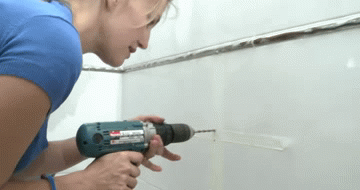 Never Again! This is What You Are Waiting For! It Makes Cutting or Drilling Holes a Cinch!
With the Adjustable Hole Saw Drill Guide, you can start the hole and remove it while completing the remainder of holes or use it throughout the project. Easy to use and adjustable. Secures with suction base. Designed to allow you to feed water through the integrated hole. The perfect accessory for any drilling project. With dual side configuration settings to choose from.
Main Features:
Guide hole saw or drill bit to drill clear holes on tile, glass, marble, counter-top, granite, etc
Adjustable plates' maximum opening length is 3-1/4", large enough to put in all sizes' hole saws
4 removable bearings can be re-positioned at the 7 bearing holes depend on your needs
Suction cup base has good strength to hold the centering jig tight and well on a smooth surface
Made of engineering grade ABS plastic, durable quality, not easy to get cracked
STURDY, EFFICIENT & RELIABLE TOOL FOR DIY WORKS AND OTHERS!
Adjustable Hole Saw Drill Guide will Save your Time, Money and Effort! Get One and Start that Project You Have  Procrastinated because You didn't want to deal with the hassle. 
Note: Need the hole drill used together!(No Hole Drill Included)
Instructions:
1. Adjust the sliding plate for the size of the hole saw - drill bit you want to use. 
2. Fix the guide using the suction base exactly where you want to drill the hole. 
3. Using water as a coolant, start the hole. 
4. Use the guide until the drill bit - hole saw makes an initial mark deep enough to keep the bit in position. 
5. While drilling, keep using water to cool down the diamond drill bit - hole saw.
Get Yours Now! Available While Stocks Last!
Package Includes:
 1 x Adjustable Hole Saw Drill Guide
---